KASHMIR ROADSIDE SHOW AT THE COMMONWEALTH OFFICE ON THE COMMONWEALTH DAY
London; 12 March 2019 – South Asia Centre for Peace & Human Rights (SACFPHR) in coordination with International Commission for Human Rights (ICHR) and Kashmir Youth Assembly (KYA) held Kashmir Roadside Show outside the Commonwealth Secretariat at London, where 57 High Commissioners attended the Annual Commonwealth Day celebrations, presided over by His Royal Highness Prince Charles.
Under the patronage of Professor Nazir A Shawl SACFPHR), representatives of the Commonwealth countries who were visiting viewed the Roadside show. The exhibition depicted the gross human rights violations taking place in Indian occupied Kashmir. The High Commissioners and their diplomatic staff were briefed about the critical situation there and were provided literature encouraging them to play a meaningful role in stopping torture, killings, sexual violence and use of excessive force including use pellet short guns and to support the Kashmiris right to self- determination.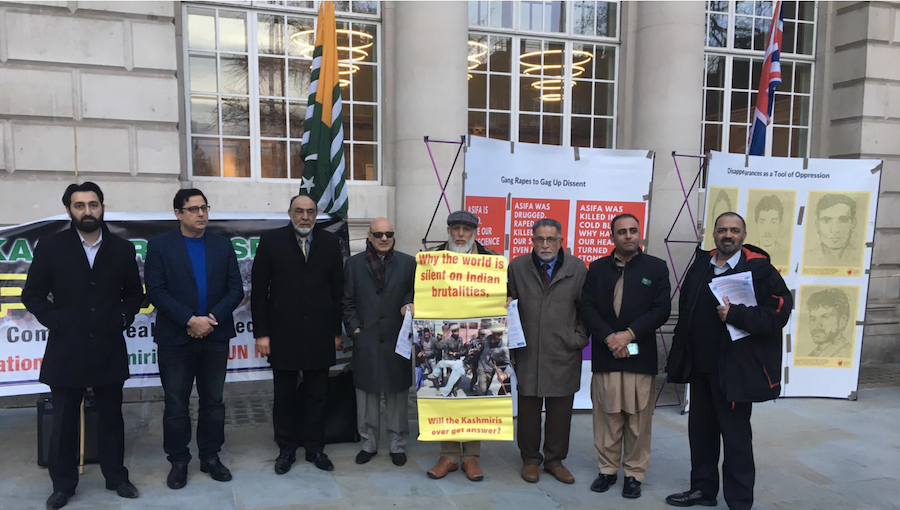 Interacting with the campaigners, dignitaries were urged to impress upon the United Nations Human Rights Council to hold a panel discussion on the UN Report on Kashmir published in June 2018 by the Office of the UN High Commissioner for Human Rights. They were informed that the subcontinent is a nuclear flashpoint risking peace and security to wider territories.
The Indian delegation attending were also approached, calling their conscience to end Indian state terror and the continued brutalities against innocent civilians in Indian occupied Kashmir and mainland India. They were advised that recent escalations between Pakistan and India reinforced the fact that solving the Kashmir issue according to the United Nations Resolutions would lead to peace and prosperity for the region, and any further flagrant disregard of international law and human rights law would lead the two nuclear powers to the brink of war, gambling the lives of all citizens.
The British Police remained vigilant and provided constant security to the Kashmiri team.