Dr. Ahad inherited a rich intellectual legacy of his grandfather, Amma Too, popularly known as Amma Baba; a great revolutionary of his times who contributed immensely to the Silk Factory agitation and brought the labour problems into focus when his famous poem: "Tumhara war hamara war, doo cheezu say bani hai mill naffa kay doo he say darn, braber hai braber hai" not only aroused the workmen's conscience but also disturbed the sleep of their exploiters.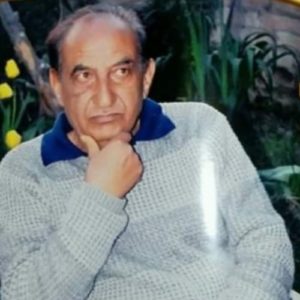 Dr. Ahad's passionate craving for learning was further intensified, first by the academic benevolence of Tyndale Biscoe Mission School, Fateh Kadal, and later under the able guidance of teachers at the Multipurpose Higher Secondary School, Bagh-i-Dilawer Khan, Fateh Kadal, Srinagar. He graduated from S.P. College, Srinagar and joined Kashmir University to pursue P.G. studies and, subsequently, research course leading tot he completion of his PhD Degree. 
He started his carer as a lecturer in 1973 and taught history at Amar Singh College, Srinagar nearly for about 4 years during which period he shot to prominence for graceful, skilful and inimitable style of writing on Kashmir affairs and came to be widely respected as a sensitive writer, with a rare combination of scholarship and objectivity, through journals of national and international repute especially: "Islam & The Modern Age", Jamie Milia, New Delhi; "Islamic Perspective", Mumbai. His "Kashmir to Frankfurt: A Study of Arts & Crafts", published in 1986-87 to overwhelming acclaim as a monumental work, continues to enjoy the credibility of a thoughtful original work and masterpiece of socio-economic history of Kashmir. Containing many remarkable insights into the cultural formations and production relations obtaining in Kashmir at various periods of its history, it earned a distinction of being the best book of that year on Kashmir and opened up new vistas and opportunities for the author to handle more important assignments of Director-Archives, Archaeology & Museums, Director-Research & Public Libraries, Additional Secretary to Government, Special Secretary to Government, Secretary to Government and Commissioner Secretary to Government. He also provided a brilliant and analytical account of administration when he wrote: "Level Jumping Justified & Transparency in Administration".